Innovation Unit
Introduction
The Technosanitary Innovation Unit of IIS-Fundación Jiménez Díaz (IIS-FJD) was created in 2013 as a support transversal unit for innovation management of the IIS-FJD. It is directed by the Scientific Director of the IIS-FJD, Dr. Carmen Ayuso, and coordinated by Dr. Alberto Ortiz.
The Innovation Unit has a multidisciplinary team of professionals that includes basic scientists and clinical researchers with an innovative profile together with personnel from project management and technology and service platforms who are responsible for identifying technosanitary innovation in our center and promote collaboration agreements with the academic, health and industrial environment.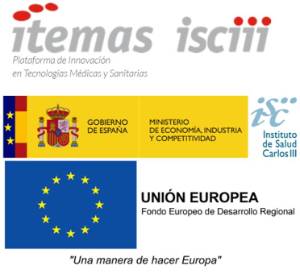 ITEMAS
Currently the Innovation Unit is part of the Spanish Medical Technology Innovation Platform promoted by the ISCIII (ITEMAS).

Most relevant publications of the Innovation Unit`s members during the last five years:
1. Expanded allogeneic adipose-derived mesenchymal stem cells (Cx601) for complex perianal fistulas in Crohn's disease: a phase 3 randomised, double-blind controlled trial. Panés J, García-Olmo D, Van Assche G, Colombel JF, Reinisch W, Baumgart DC, Dignass A, Nachury M, Ferrante M, Kazemi-Shirazi L, Grimaud JC, de la Portilla F, Goldin E, Richard MP, Leselbaum A, Danese S; ADMIRE CD Study Group Collaborators. Lancet. 2016; 24;388(10051):1281-90. FI:44,002.
2. Zafra MP, Cancelliere N, Rodríguez del Río P, Ruiz-García M, Estévez L, Andregnette V, Sánchez-García S, Fiandor A, Collantes E, Sastre J, Quirce S, Ibáñez MD, del Pozo V. Misregulation of suppressors of cytokine signaling in eosinophilic esophagitis. J Gastroenterol. 2013 Aug;48(8):910-20. FI: 4,414.
3. Corton M, Avila-Fernandez A, Vallespín E, López-Molina MI, Almoguera B, Martín-Garrido E, Tatu SD, Imran Khan M, Blanco-Kelly F, Riveiro-Alvarez R, Brión M, García-Sandoval B, P.M. Cremers F, Carracedo A, Ayuso C.Involvement of LCA5 in Leber Congenital Amaurosis and Retinitis Pigmentosa in the Spanish Population. Ophthalmology 2014 Jan;121(1):399-407. FI: 6,750.
4. Dal-Ré R, Katsanis N, Katsanis S, Parker LS, Ayuso C. Managing incidental genomic findings in clinical trials: fulfillment of the principle of justice in human subjects research. PLoS Medicine. 2014 Jan 11;1:e1001584. FI: 13,585.
5. Tardio L, Andrés-Bergós J, Zachara NE, Larrañaga-Vera A, Rodriguez-Villar C, Herrero-Beaumont G, Largo R. Olinked N-Acetylglucosamine (O-GlcNAc) protein modification is altered in the cartilage of patients with knee osteoarthritis. Osteoarthritis Cartilage 2014, 22:259-63. FI: 4,535.
6. Cumulative Evidence That Mesenchymal Stem Cells Promote Healing of Perianal Fistulas of Patients With Crohn's Disease-Going From Bench to Bedside. Garcia-Olmo D, Schwartz DA. Gastroenterology. 2015;149 (4):853-7. FI:18,187.
7. Díaz-García JD, Gallegos-Villalobos A, Gonzalez-Espinoza L, Sanchez-Niño MD, Villarrubia J, Ortiz A. Deferasirox nephrotoxicity-the knowns and unknowns. Nat Rev Nephrol. 2014 Oct;10(10):574-86. FI: 9,463.
8. Blanco-Kelly F, Jaijo T, Aller E, Avila-Fernandez A, López-Molina MI, Giménez A, García-Sandoval B, Millán JM, Ayuso C.. Clinical aspects of Usher Syndrome and USH2A gene: in a cohort of 433 patients. JAMA Ophthalmol. 2015 Feb; 133(2): 157-64. FI: 6,750.
9. Portal-Núñez S, Esbrit P, Alcaraz MJ, Largo R. Oxidative stress, autophagy, epigenetic changes and regulation by miRNAs as potential therapeutic targets in osteoarthritis. Biochem Pharmacol. 2016 Biochem Pharmacol. 15;108:1-10. FI: 5,091.
10. Ortiz A, Husi H, Gonzalez-Lafuente L, Valiño-Rivas L, Fresno M, Sanz AB, Mullen W, Albalat A, Mezzano S, Vlahou T, Mischak H, Sanchez-Niño MD. Mitogen-Activated Protein Kinase 14 Promotes AKI. J Am Soc Nephrol. 2016 Sep 12. FI: 8,491.
Likewise, in the last few years, the Innovation Unit has been given support for the development of several innovative reference projects:
Project Title

Research Group

Lead Researcher

Type of Project

Reference

Funding Entity

NAVEGACIÓN Y GUIDO PARA TRATAMIENTOS DE ACELERADORES MÓVILES PARA TRATAMIENTO DE RADIOTERAPIA INTRAOPERATORIA

Research into new therapies

GARCIA OLMO DAMIÁN

Competitive Public Project

Proyecto Desarrollo Tecnológico en Salud
DTS14/00229

OPTIMIZACION DE PROCESOS DE CRIO-PRESERVACIÓN PARA TERAPIAS AVANZADAS

Research into new therapies

GARCIA OLMO DAMIÁN

Competitive Public Project

Proyecto Retos Colaboración
RTC-2016-5008-1

SOMIDIAB-DESARROLLO DE UN COMPUESTO MIMÉTICO DE SOCS1 PARA EL TRATAMIENTO DE LAS COMPLICACIONES CRÓNICAS PACIENTES CON DIABETES

Nephrology, vascular pathology, hypertension and diabetes

EGIDO DE LOS RIOS JESÚS

Competitive Private Project

Proyecto FIPSE
00-00002787-16

DISPOSITIVO DE IMPLANTACIÓN DE PRÓTESIS PARA EL TRATAMIENTO DE ANEURISMA DE AORTA ABDOMINAL

Nephrology, vascular pathology, hypertension and diabetes

BAEZA BERMEJILLO CIRO

Competitive Private Project

Proyecto FIPSE
00-00002299-16

DIABETESCANCERCONNECT:TARGETING COMMON INFLAMMATORY MARKERS AND SIGNALING PATHWAYS IN DIABETES MELLITUS AND CANCER.

Nephrology, vascular pathology, hypertension and diabetes

EGIDO DE LOS RIOS JESÚS

Competitive Public Project

Proyecto integrado PIE13/00051

mRNA ENGINEERED MESENCHYMAL STROMAL CELLS: A NEW GENERATION OF CELL THERAPY FOR INFLAMMATORY DISEASES

Research into new therapies

GARCÍA OLMO DAMIÁN

Competitive Public Project

Proyecto integrado PIE15/00048

INTERNATIONAL LATINO RESEARCH PARTNERSHIP (IRLP)

Psychiatry and mental health

BACA-GARCÍA ENRIQUE

Competitive Public Project




Proyecto NIH 7R01DA034952-04

A NEW STATISTICAL PARADIGM FOR MEASURING PSYCHOPATHOLOGY DIMENSIONS IN YOUTH (NIMH)

Psychiatry and mental health

BACA-GARCÍA ENRIQUE

Competitive Public Project

Proyecto NIH 5R01MH100155-03

LAFORA EPILEPSY-BASIC MECHANISMS TO THERAPY (CORE 2)

Neurology

SERRATOSA FERNÁNDEZ JOSÉ MARIA

Competitive Public Project

Proyecto NIH IP0INS097197-07