Rheumatology and bone metabolism
Heads
Gabriel Herrero-Beaumont (Associate Professor, UAM)
Pedro Esbrit Argüelles (Head of Group RETICEF)
Raquel Largo Carazo
Concepción de la Piedra Gordo
Olga Sánchez Pernaute
Research staff
Juan Antonio Ardura Rodríguez
Juan Ignacio Barrasa López
Rodolfo Gómez Bahamonde
Marina Gómez Chinchón
Fredeswinda I. Romero Bueno
Sergio Portal Núñez
Trainee staff
Ane Larrañaga Vera
Ana López Herradón
Marta Martín Fernández
Juan Antonio Martínez López
Marta Maycas Cepeda
María Pérez Ferro
Iván Prieto Potin
Amanda Villalvilla García
Sandra Pérez Baos
Robert D Little (Visiting researcher, Monash Universitiy, Melbourne, Australia)
Technical staff and assistants
Mª Jesús Álvarez Montero
Eulalia García Pérez
Rosa Muñoz Tavira
Staff Research Associates
Mª Ángeles Contreras Sanz, IIS-La Princesa, Madrid
Daniel Lozano Borregón, UCM, Madrid
Arancha Rodríguez de Gortázar, Universidad CEU SAN PABLO, Madrid
Jorge Román San Blas, THomas Jefferson University, EEUU
Arantxa Ortega de Mues, RCU María Cristina
Tere Bellido, Universidad de Indiana, EEUU
Mercedes Rubert de la Piedra, SERMAS Madrid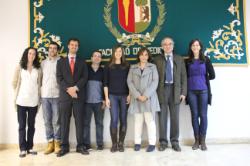 High resolution image. This link will open using lightbox, there may be a context switchfoto reuma
Main lines of research
Study of subchondral bone deterioration associated with different joint diseases (mainly rheumatoid arthritis, osteoarthritis, and osteoporosis).
Subchondral bone as a therapeutic target in these diseases. Several experimental models of joint damage are used, as well as samples from patients from the Traumatology and Rheumatology services of the FJD hospital.
Study of obesity as an aggravating factor of osteoarthritis.
* Principal Investigator: Dr. Herrero-Beaumont
Study of protein modification by O-N-acetyl-glycosylation as a new mechanism of cell damage in chondrocytes
We are investigating this protein modification system as one of the mechanisms that may underlie the increased incidence and severity of osteoarthritis in patients with metabolic disorders such as diabetes or metabolic syndrome. In addition, we study the role of hyperlipidemia and hyperglycemia in osteoarthritic alterations of cartilage.
Study of rheumatoid cachexia and dyslipidemic alterations produced by chronic inflammation
Modulation of the inflammatory response in animal models of rheumatoid cachexia.
* Principal Investigator: Dr. Raquel Largo
Subject Network for Cooperative Research in Aging and Fragility
Within the framework of the Subject Network for Cooperative Research in Aging and Fragility (RETICEF, ISCIII), to which the research group of the Mineral and Bone Metabolism Laboratory belongs, several in vitro and in vivo models are used to study the effects of age and diabetic conditions (combined or individually) on bone remodeling and osteoblast/osteocyte function. Specifically, our focus is on the observed changes in cell viability/apoptosis, autophagy, oxidative stress, cell proliferation and differentiation, and the expression of genes responsible for these alterations, as well as the cellular signaling pathways involved. In this context, our aim is to characterize the osteogenic effects of parathyroid hormone-related protein (PTHrP).
Bioceramics for Tissue Engineering
In collaboration with the Bioceramics for Tissue Engineering consortium (Autonomous Community of Madrid), with which the laboratory is associated, studies are conducted to design various biomaterials and evaluate their osteogenic capacity, both in vitro in osteoblast cell cultures, and in vivo in rat and rabbit long bone defect models.
* Principal Investigator: Dr. Pedro Esbrit
Long-term effect on bone of the main therapies used to treat postmenopausal osteoporosis
Translational research in rats.
Utility of biochemical markers of bone turnover to monitor the development of bone metastases associated with cancer and the effects on the host
This work is carried out using 2 approaches: translational (mice) and clinical (patients).
* Principal Investigator: Dr. Concha de la Piedra
Role of innate immunity in the pathogenesis of systemic autoimmune diseases. Fibrin-induced cellular activation in rheumatoid arthritis.
Pathways of activation of Toll-like receptor (TLR) in systemic lupus erythematosus.
Regulation of microRNAs in systemic autoimmune diseases
Advances in the understanding of the role of autoantibodies in complex autoimmune diseases
Relationship between certain autoantibodies and clinical phenotypes and characterization of new autoantigens.
* Principal Investigator: Dr. Olga Sánchez Pernaute
Publications (2014)
Total number of Publications

Nº of Publications with IF

Accumulated IF

Average

IF

Nº of Publications (Q1)

(%) Q1

17

15

59,67

3,98

12

80,00%
1. Castañeda Santos Roman-Blas Jorge A Cohen-Solal Martine Largo Raquel Herrero-Beaumont Gabriel .Is lecturing in Rheumatology Satellite Symposia a male attribute?Rheumatol Int. 2014 Feb;34(2):287-8. doi: 10.1007/s00296-013-2747-7. Epub 2013 Apr 16. .PudMed PMID:23588408

2. Tardio L Andrés-Bergós J Zachara N E Larrañaga-Vera A Rodriguez-Villar C Herrero-Beaumont G Largo R .O-linked N-acetylglucosamine (O-GlcNAc) protein modification is increased in the cartilage of patients with knee osteoarthritis.Osteoarthritis Cartilage. 2014 Feb;22(2):259-63. doi: 10.1016/j.joca.2013.12.001. Epub 2013 Dec 12..PudMed PMID:24333294

3. Rodríguez-de la Rosa L, López-Herradón A, Portal-Núñez S, Murillo-Cuesta S, Lozano D, Cediel R, Varela-Nieto I, Esbrit P.Treatment with N- and C-terminal peptides of parathyroid hormone-related protein partly compensate the skeletal abnormalities in IGF-I deficient mice.PLoS One. 2014;9(2):e87536. doi: 10.1371/journal.pone.0087536..PudMed PMID:24503961

4. Lugo L, Villalvilla A, Largo R, Herrero-Beaumont G, Roman-Blas JA.Selective estrogen receptor modulators (SERMs): new alternatives for osteoarthritis?Maturitas. 2014 Apr;77(4):380-4. doi: 10.1016/j.maturitas.2014.01.016. Epub 2014 Feb 15. Review..PudMed PMID:24602552

5. Lozano D, Sánchez-Salcedo S, Portal-Núñez S, Vila M, López-Herradón A, Ardura JA, Mulero F, Gómez-Barrena E, Vallet-Regí M, Esbrit P.Parathyroid hormone-related protein (107-111) improves the bone regeneration potential of gelatin-glutaraldehyde biopolymer-coated hydroxyapatite.Acta Biomater. 2014 Jul;10(7):3307-16. doi: 10.1016/j.actbio.2014.03.025. Epub 2014 Apr 2..PudMed PMID:24704694

6. García-Martín A, Ardura J, Maycas M, Lozano D, López-Herradón A, Portal-Núñez S, García-Ocaña A, Esbrit P.Functional roles of the nuclear localization signal of parathyroid hormone-related protein (PTHrP) in osteoblastic cells.Mol Endocrinol. 2014 Jun;28(6):925-34. doi: 10.1210/me.2013-1225. Epub 2014 Apr 11..PudMed PMID:24725082

7. Usón J, Fernández-Espartero C, Villaverde V, Condés E, Godo J, Martínez-Blasco MJ, Miguélez R.Symptomatic and asymptomatic interphalageal osteoarthritis: An ultrasonographic study.Reumatol Clin. 2014 Sep-Oct;10(5):278-82. doi: 10.1016/j.reuma.2014.01.008. Epub 2014 Apr 13..PudMed PMID:24725610
8. Coletta DJ, Lozano D, Rocha-Oliveira AA, Mortarino P, Bumaguin GE, Vitelli E, Vena R, Missana L, Jammal MV, Portal-Núñez S, Pereira M, Esbrit P, Feldman S.Characterization of Hybrid Bioactive Glass-polyvinyl Alcohol Scaffolds Containing a PTHrP-derived Pentapeptide as Implants for Tissue Engineering Applications.Open Biomed Eng J. 2014;8:20-7. doi: 10.2174/1874120701408010020..PudMed PMID:24772196

9. Loricera Javier Blanco Ricardo Castañeda Santos Humbría Alicia Ortego-Centeno Norberto Narváez Javier Mata Cristina Melchor Sheila Aurrecoechea Elena Calvo-Alén Jaime Lluch Pau Moll Concepción Mínguez Mauricio Herrero-Beaumont Gabriel Bravo Beatriz Rubio Esteban Freire Mercedes Peiró Enriqueta González-Vela Carmen Rueda-Gotor Javier Pina Trinitario, Palmou-Fontana Natalia, Calvo-Río Vanesa, Ortiz-Sanjuán Francisco, González-Gay Miguel Ángel, .Tocilizumab in refractory aortitis: study on 16 patients and literature review.Clin Exp Rheumatol. 2014 May-Jun;32(3 Suppl 82):S79-89. Epub 2014 May 15..PudMed PMID:24854377

10. Villalvilla A, Gomez R, Roman-Blas JA, Largo R, Herrero-Beaumont G.SDF-1 signaling: a promising target in rheumatic diseases.Expert Opin Ther Targets. 2014 Sep;18(9):1077-87. doi: 10.1517/14728222.2014.930440. Epub 2014 Jun 20. Review..PudMed PMID:24950016

11. Calvo-Río V, Blanco R, Beltrán E, Sánchez-Bursón J, Mesquida M, Adán A, Hernandez MV, Hernandez Garfella M, Valls Pascual E, Martínez-Costa L, Sellas-Fernández A, Cordero Coma M, Díaz-Llopis M, Gallego R, Salom D, García Serrano JL, Ortego N, Herreras JM, Fonollosa A, García-Aparicio AM, Maíz O, Blanco A, Torre I, Fernández-Espartero C, Jovani V, Peiteado-Lopez D, Pato E, Cruz J, Fernández-Cid C, Aurrecoechea E, García M, Caracuel MA, Montilla C, Atanes A, Hernandez FF, Insua S, González-Suárez S, Sánchez-Andrade A, Gamero F, Linares L, Romero-Bueno F, García AJ, Almodovar R, Minguez E, Carrasco Cubero C, Olive A, Vázquez J, Ruiz Moreno O, Jiménez-Zorzo F, Manero J, Muñoz Fernández S, Rueda-Gotor J, González-Gay MA.Anti-TNF-α therapy in patients with refractory uveitis due to Behçet's disease: a 1-year follow-up study of 124 patients.Rheumatology (Oxford). 2014 Dec;53(12):2223-31. doi: 10.1093/rheumatology/keu266. Epub 2014 Jul 4..PudMed PMID:24996907

12. Gómez-Barrena E, Rosset P, Lozano D, Stanovici J, Ermthaller C, Gerbhard F.Bone fracture healing: cell therapy in delayed unions and nonunions.Bone. 2015 Jan;70:93-101. doi: 10.1016/j.bone.2014.07.033. Epub 2014 Aug 2..PudMed PMID:25093266

13. F de Castro L Maycas M Bravo B Esbrit P Gortazar Ar .VEGF receptor 2 (VEGFR2) activation is essential for osteocyte survival induced by mechanotransduction.J Cell Physiol. 2014 Aug 7. doi: 10.1002/jcp.24734. [Epub ahead of print].PudMed PMID:25102966

14. Barnadas A, Manso L, de la Piedra C, Meseguer C, Crespo C, Gómez P, Calvo L, Martinez P, Ruiz-Borrego M, Perelló A, Antón A, Codes M, Margelí M, Murias A, Salvador J, Seguí MÁ, de Juan A, Gavilá J, Luque M, Pérez D, Zamora P, Arizcuma A, Chacón JI, Heras L, Martin-Fernández M, Mahillo-Fernández I, Tusquets I.Bone turnover markers as predictive indicators of outcome in patients with breast cancer and bone metastases treated with bisphosphonates: results from a 2-year multicentre observational study (ZOMAR study).Bone. 2014 Nov;68:32-40. doi: 10.1016/j.bone.2014.07.036. Epub 2014 Aug 7..PudMed PMID:25108081

15. Lozano Daniel Hernández-López Juan M Esbrit Pedro Arenas Maria A Gómez-Barrena Enrique de Damborenea Juan Esteban Jaime Pérez-Jorge Concepción Pérez-Tanoira Ramón Conde Ana .Influence of the nanostructure of F-doped TiO2 films on osteoblast growth and function.J Biomed Mater Res A. 2015 Jun;103(6):1985-90. doi: 10.1002/jbm.a.35337. Epub 2014 Sep 25..PudMed PMID:25230841

16. Ferreiro-Iglesias Aida Calaza Manuel Perez-Pampin Eva Lopez Longo Francisco J Marenco Jose L Blanco Francisco J Narvaez Javier Navarro Federico Cañete Juan D de la Serna Arturo R Gonzalez-Alvaro Isidoro Herrero-Beaumont Gabriel Pablos Jose L Balsa Alejandro Fernandez-Gutierrez Benjamin Caliz Rafael Gomez-Reino Juan J Gonzalez Antonio .Lack of replication of interactions between polymorphisms in rheumatoid arthritis susceptibility: case-control study.Arthritis Res Ther. 2014 Sep 27;16(5):436. doi: 10.1186/s13075-014-0436-x..PudMed PMID:25260880

17. Maycas M, Ardura JA, de Castro LF, Bravo B, Gortázar AR, Esbrit P..Role of the parathyroid hormone type 1 receptor (PTH1R) as a mechanosensor in osteocyte survival.J Bone Miner Res. 2014 Dec 22. doi: 10.1002/jbmr.2439. [Epub ahead of print].PudMed PMID:25529820
Projects (2013)
1. "Estudio de las condiciones óptimas para el cultivo de osteoblastos humanos" Investigadora Principal Dra. C. de la Piedra.
Financiación Privada 3531/010.
2. "Diabage oxidatives stress related to aging and diabetes mellitus interacts with the mechanisms of bone formation and bone regeneration" Investigador Principal Dr. P. Esbrit Argüelles.
Proyecto Público Competitivo PI11/00449.
3. "Red Temática de Investigación cooperativa de envejecimiento y fragilidad" Investigador Principal Dr. P. Esbrit Argüelles.
Proyecto Público Competitivo RD12/0043/0008.
4. "Biocerámicas para ingeniería tisular (FUNDAHUESO)" Investigador Principal Dr. P. Esbrit Argüelles.
Proyecto Público Competitivo S2009/MAT-1472.
5. "Efecto de la obesidad a la arterioesclerosis en el desarrollo de la artrosis" Investigador Principal Dr. G. Herrero-Beaumont Cuenca.
Proyecto Público Competitivo PS09/01625.
6. "La señalización molecular inducida por la O-N-Acetil-Glicosilación proteica: el vínculo patogénico entre diabetes, síndrome metabólico y artrosis"
Investigadora Principal Dra. R. Largo Carazo.
Proyecto Público Competitivo PI12/00144.
7. "Ayuda IDC Laboratorio patología ostearticular"
Investigadora Principal Dra. R. Largo Carazo.
Financiación Privada 5283/005.
8. "Efectos producidos sobre la calidad ósea por los tratamientos más utilizados para la osteoporosis postmenopáusica"
Investigadora Principal Dra. Concepción la Piedra Gordo.
Proyecto Público Competitivo PI12/01472.
9. "Marcadores de remodelado óseo en el estudio de la extensión de las metástasis óseas en un modelo de cáncer de próstata en ratas con y sin tratamiento con ácido zoléndrico".
Investigadora Principal Dra. Concepción la Piedra Gordo.
Financiación Privada 3531/009.
10. "Estudio de las asociaciones fenotípicas con las distintas vías de activación de los receptores Toll Like (TLR) y el sistema de los microRNA en el lupus eritematoso sistémico"
Investigadora Principal Dra. Olga Sánchez Pernaute.
Proyecto Público Competitivo PI10/00377.
Clinical trials and Observational studies (2013)
1. Clinical trial: "Ensayo aleatorizado, doble ciego con placebo controlado sobre RNA activo derivado de la vacuna para cáncer (CV9104) en pacientes asintomáticos o mínimamente asintomáticos de Cáncer de próstata metastásico resistente a la castración" (NºEUDRACT: 5283/004 Clinical trial Fase I/II). Investigadora Principal: R. Largo Carazo.
2. Clinical trial: "Teriparatida y Risedronato en el tratamiento de la osteoporosis severa menopáusica: efectos comparativos en las fracturas vertebrales" (NºEUDRACT: 2012-000123-41 Clinical trial Fase IV Multicéntrico Internacional). Investigador Principal: M. Díaz Curiel.
3. Clinical trial: "Ensayo aleatorizado, doble ciego y multicéntrico para evaluar la seguridad y eficacia de la combinación de TOCILIZUMAB (TCZ) y METOTREXATO (MTX), frente al cambio a TCZ (controlado con placebo), en pacientes con artritis reumatoide (AR) activa que manifestaron una respuesta inadecuada al tratamiento previo con MTX y han alcanzado una actividad baja de la enfermedad (DAS 28 3.2) con la combinación TCZ y MTX" (NºEUDRACT: 2011-001626-15 Clinical trial Fase III Multicéntrico). Investigadora Principal: Mª.C. Ortega de la O.
Patents
- P201031193, PCT/ES2011/070547 "Biomaterial con osteostatina para regeneración ósea e ingeniería tisular".
- P201430853 "Uso de 6-SHOGAOL para la fabricación de un medicamento para el tratamiento de la osteoporosis".
- P201430629 "Utilización de aloinjerto humano fragmentado, enriquecido con osteoblastos humanos procedentes del propio paciente, en la cirugía de artrodesis de columna".