Cancer
The groups that make up the Cancer Research Area carry out research on three complementary levels: basic research, translational or applied research, and clinical research. The area's member groups are pathology, oncology, hematology, and two associated groups.
The ultimate goal of the cancer-research groups is to make a contribution to cancer prevention and diagnosis, increasing patients' recovery rate and quality of life.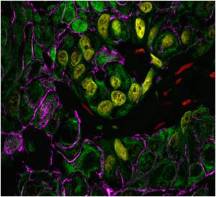 Cancer research Area
Basic research is geared toward discovering and understanding the biology of cancer so as to identify the molecular alterations that may be used in applied research. Applied or pre-clinical research seeks to identify new therapy targets based on laboratory models, conduct tests with novel drugs, and to study biomarkers by means of molecular pathology, pharmacodynamics, and pharmacogenetics. Clinical research is oriented toward improving prevention, diagnosis, and treatment of cancer through clinical trials and toward proving the effectiveness and safety of new treatments, carrying out observational studies, and performing studies of biomarkers.
Challenges for the future
Perform functional analysis and validation of biomarkers for prediction and prognosis of common tumor types in our surroundings.
Identify new cell model-based therapy targets in tumors with high prevalence.
Identify new diagnostic and therapy tools for tumors by applying molecular pathology and systems pathology.
Continue the study of genetic abnormalities in solid and hematologic tumors.
Hematopoietic transplantation.
Molecular study of lung cancer.
Biomarkers in lung cancer
Research Groups
Histopathology
Hematology
Oncology
Associated Groups
Thoracic surgery and others
Radiation therapy
*Letter of amendment: It has wrongly been assigned a scientific paper (PMID 24530095) to the Medical Oncology group. We apologize for the inconveniences caused to the corresponding authors.